Last Update: Sat. Apr. 11, 1998 12:50 AM CST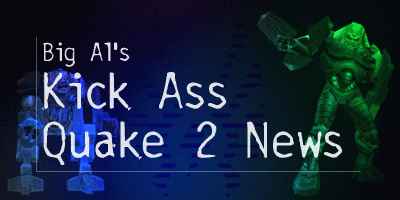 Moving

The New Address At Gamestats.com Has Been Confirmed, The New Address Will Be http://quake2news.gamestats.com, right now there is just a page that says Boo! But This Afternoon It Will Be In Place.

Quake II Mods

Recon Wars

Two New Version Have Been Released For Recon Wars, Version 2.02 Beta Client And Verison 1.92 Server-Only Patch.

Rocket Arena 2

The new Rocket Arena 2 client and server have both been released on the Rocket Arena page. The server ZIP
includes files for Win32, Linux, and Sun Solaris. Servers will need the client files. Beware the client file is 12.6 MB.

Moving

Big Al's Kick Ass Quake II News Will Be Moving To Gamestats.com Within A Few Days. So Check Back In A Day Or So For The New Link.

.plan Update.

Big Al Updated His .plan Today. Talking About The Site Move.

Tournament

A Few More Things Concerning The Tournaments:

1) The First Tournament Will Be Held Of May 1st. DM Will Be First.

2) There Will Be Four (4) Tournaments, 2 DM And 2 CTF. Each Tournament Will Be 32 Clans. Min Of
5 Players Per Clan.

3) Dr. Jones Is Helping My Out With The Tournament. He Will Be Doing To Emailing Of Clans, And Setting
Up The Matches. Who Fights Who, That Sort Of Junk. (Someone Has To Do It)

4) We Are In Real Bad Need Of Servers. If Your Clan Has A Server E-Mail Dr. Jones.

New Link Logo

Big Al Has Designed A New Logo For The Site Links Menu On The Left.

SiN Update
A Few Words From Grue's .plan update:

Things have come together nicely on the art side of Sin, and the fine tuning has begun. All the screenshots
we have released can be considered old news, as we have re-done just about every model -- including
weapons, as we have made the switch to the Q2 code. We finally have a texture mapping method we are
happy with. The lighting model has also changed drastically and things look so much better. Visible
weapons in deathmatch rocks - there's nothing like the chill that goes through you when you see a guy
sizing you up from long range with a massive gun. Visible weapons isn't as easy as it sounds, you have to
account for every weapon type in every run, walk, fire, crouchfire, swim, swimfire, etc. Blade can shoot
rifle style, big gun style, and pistol style. It adds up to a lot of animating

Quake II Mods

Qoole

Version 2.36 Of WinQoole And GLQoole Have Been Released On The Qoole Test Page.

Reviews

MacQuake 1.09
MacQuake 1.09 is reviewed on MacQuake.com.

Righteous 3D II
PsychoNews reviews the Voodoo2, taking a look at the 12MB Righteous 3D II.

News Crew

I Joined The News Crew Over At quake2.questgate.net today. I am just doing small updates daily. So check it out and see my updates.

Quake II Top 100

The People Over At Quake II Top 100 Restarted The Thingy Again, So Can You Help Me Get Back Up In The Top Ten Again. Just Click Here Or Click The Quake II Top 100 Banner At The Top.

Tournament

A Couple Of Things:

1) The Dates Will Probably Be The 1st Of May For The DM Tournaments, But I Am Not Sure.

2) We Need Some More Servers, If You Have A Server Or Your Clan Has A Server Drop Us A Line At: quake2news@hotmail.com

3) We Still Need Some More Clans. For Sure We Need 64 Clans, But I Would Like 128 In The Tournament. Because We Will
Have 2 32 Tournaments For Each Category. So 2 32 Clan DM Tournaments And 2 32 Clan CTF Tournament.

4) What Kind Of CTF Are We Going To Play?? LMCTF Or Three Wave, Or Both. Send Us Some Mail With Your
Suggestions. quake2news@hotmail.com

SGI sues nVida!

SGI wants an injunction against the RIVA-family video accelerators(the only read competition to the Voodoo family of accelerators).

The suit alleges the RIVAs infringe upon SGI's U.S. Patent No. 5,706,481 for an innovation "that has made high-speed texture mapping possible in low-priced hardware." Thanks Ysalamiri

John Carmack's Quake 3 Update

Say This On Blue's Today. John Carmack's .plan gives the lowdown on two ends of the id gaming spectrum, giving up the latest on Quake 3, as well as his impressions on the state of the Doom source release:

Things are progressing reasonably well on the Quake 3 engine.

Not being limited to supporting a 320*240 256 color screen is very, very nice, and will make everyone's lives a lot easier.

All of our new source artwork is being done in 24 bit TGA files, but the engine will continue to load .wal files and .pcx files for developer's convenience. Each pcx can have its
own palette now though, because it is just converted to 24 bit at load time.

Q3 is going to have a fixed virtual screen coordinate system, independant of resolution. I tried that back in the original glquake, but the fixed coordinate system was only
320*200, which was excessively low. Q2 went with a dynamic layout at different resolutions, which was a pain, and won't scale to the high resolutions that very fast cards
will be capable of running at next year.

All screen drawing is now done assuming the screen is 640*480, and everything is just scaled as you go higher or lower. This makes laying out status bars and HUDs a ton
easier, and will let us do a lot cooler looking screens.

There will be an interface to let game dlls draw whatever they want on the screen, precisely where they want it. You can suck up a lot of network bandwidth doing that though,
so some care will be needed.

--

Going to the completely opposite end of the hardware spectrum from quake 3...

I have been very pleased with the fallout from the release of the DOOM source code.

At any given spot in design space, there are different paths you can take to move forward. I have usually chosen to try to make a large step to a completely new area, but the
temptation is there to just clean up and improve in the same area, continuously polishing the same program.

I am enjoying seeing several groups pouring over DOOM, fixing it up and enhancing it. Cleaning up long standing bugs. Removing internal limitations. Orthogonalizing feature
sets. Etc.

The two that I have been following closest are Team TNT's BOOM engine project, which is a clear headed, well engineered improvement on the basic DOOM technical
decisions, and Bruce Lewis' glDoom project.

Any quakers feeling nostalgic should browse around:

Quake II Mods

Graphic Cards and Stuff

Quake II Mods

Quake2-LaunchPad
The Quake2-LaunchPad is a new Quake II front-end offering support for Threewave CTF, Superheroes II and King of the Hill games in addition to single-player DM and co-op. Thanks Blue's News
Newer ServerConfigMOD 2
Beta 3 of deathmatch 2.1 of ServerConfigMOD 2 is out
Quake 2 Camera
A test page is up gauging interest in Quake2 Camera, a Quake II update to QCam, a chase cam. Thanks Blue's News

Challenge

I recived this E-mail today, requesting a challenge here is what it reads:

Hi,
My name's Brutal & I'd like to challenge you to a match. If you would be so kind as to name your terms, time, & place, we can commence to fraggin.
Look foreward to hearing from you soon,
Cya,
Brutal

Iraqi Assualt

I this Recived A Screenshot In My E-mail Today Of Iraqi Assualt.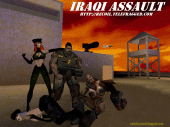 Thanks Aaron Benzick
Click For Larger Image
MacQuake
Version 1.09 of MacQuake can be found on the WizWorks support pages.
Reviews
SpecOps
Rex worked hard on the spec ops feature
http://www.gamestats.com/previews/Specops/specopspreview.htm Thanks JT Of Gamestats
Journeyman Project
I RAVE over the Journeyman project game.. Absolutly loved it.
Its also VERY appropriate for kids and is not gorry at all.
Makes ya think. It is at :
http://www.gamestats.com/reviews/software/legacyoftime/legacyoftime.html Thanks JT Of Gamestats
Cyberman 2
And if youre really low on news I have a cyberman2 hardware review..
http://www.gamestats.com/reviews/hardware/logitechcyberman2 Thanks JT Of Gamestats
Heretic II
Heretic II preview up on AVault.
Outwars
PC Gamer's Outwars preview is about Microsoft's third-person jetpack game, supposed to be as fun as upcoming shooters like Half-Life, Sin,
Unreal, and the first Quake II mission pack.
Righteous 3D II
Review on GamePen about the Righteous 3D II, Orchid's Voodoo2 offering.
Quake II Sites
JVOX'S Boomstick has moved.
The Team Fortress Outhouse has moved to Quake2Fortress.Com.
The 37th Aberrated Team Fortress Marine Expeditionary Unit has moved.
The Pic Page has relocated.
The Q2 Ring has moved.

---
Add-A-Link
This site is optimized for 1152x864, but anything else
will work. Microsoft Internet Explorer or higher is recommended.
Some News From Blues News and Quake2.Com
Member of 123Banners
LinkExchange Member